Download Product Information PDF
ITT NIGHT ENFORCER® PVS-14 MONOCULAR DELTA KIT GEN 3 PINNACLE® (MICH)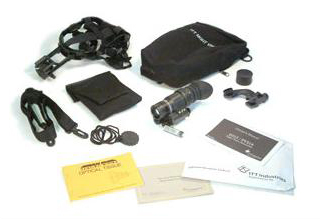 Morovision Night Vision proudly offers the NEPVS-14 Delta Kit (MICH). Equipped with a factory new, high-performance, ITT Generation 3 PINNACLE® image intensifier tube, the NEPVS-14 night vision monocular device is designed for the most demanding of night time applications. Lightweight and versatile, the NEPVS-14 monocular, featuring PINNACLE® technology, can be hand-held, head-mounted, helmet-mounted and weapons-mounted. It is also camera and camcorder adaptable. Delta Kit additional accessories include: Demist Shield, Sacrificial Window, Shuttered Eyeguard, Weapons Mount, Magnetic Compass, 3x Military Magnifier Lens, Helmet Mount Assy (MICH), and a SKB Mil-Standard Injection Mold Case.
Warning: Requires State Department License for export.
Delta Kit Accessories:

3x Military Magnifier Lens - High-performance Galilean afocal telescope that easily mounts to the objective lens of many night vision devices.
Shuttered Eyeguard - Prevents the emission of stray light.
Weapons Mount - Attaches NEPVS-14 to Weaver or Picatinny rails.
Helmet Mount Assy MICH - Allows attachment to the front of the MICH (Modular Integrated Communications Helmet) family of helmets.
Magnetic Compass - Displays a compass reading directly in the top of the night vision scene.
SKB Mil-Standard Injection Mold Case - Military Standard Injection Molded Cases from SKB are rated for Military standard testing MIL-C-4150J.
Demist Shield - Prevents condensation from forming on the optics during rapid temperature changes, heavy and/or long use.
Sacrificial Window - Protects front objective lens from dust, dirt and debris in the air, such as in high winds or storm conditions.


Standard Accessories:

Head Mount Assembly - Allows for hands-free operation. Accommodates the user's head size and eye positioning.
Brow Pad - Changeable pad for secure head mount fit.

Helmet/Head Mount Adapter - Allows the user to position the monocular in front of either eye.
Eye Cup - Prevents the emission of stray light or facial reflections.
System Soft Carrying Case - Provides convenient storage of NEPVS-14 and accessories.
Unit Soft Carrying Case - Provides convenient storage of NEPVS-14.
Shoulder Strap - Attaches to the NEPVS-14 carrying case for easy portability.
Lens Paper - Used to lightly clean the objective and eyepiece glass surfaces.
Day Light Filter - Filters excessive light. Protects objective lens from the elements.
Diopter Lens Cap - Protects diopter lens from the elements.
Operator's Manual - Instructional users guide.
Batteries - Two (2) AA. (includes one (1) spare).


Key Product Features:

ITT PINNACLE® Image Intensifier Tube - Thin-Filmed/Auto-Gated
High resolution 64 lp/mm (Typ), high gain, and high photoresponse in visible and near infrared
Variable Gain Control for enhanced performance in altering light conditions
Multifunctional: Hand-held, head-mounted, helmet-mounted, and weapons mounted
Camera and video adaptable